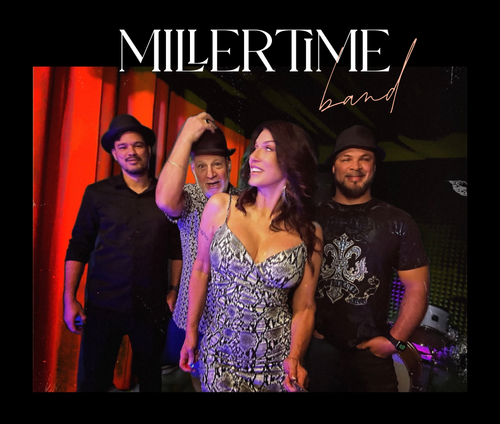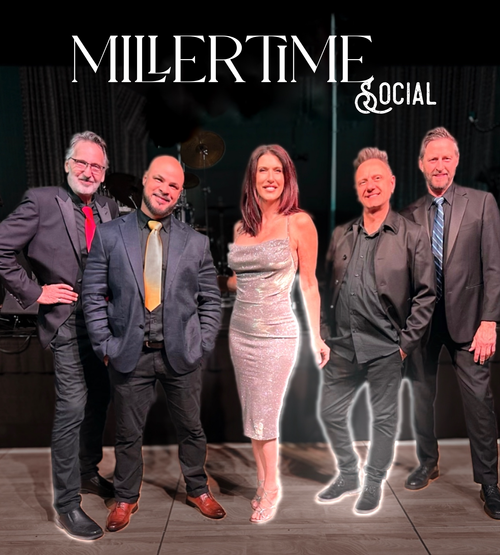 Deena Miller of "MILLERTIME" is a professional vocalist, guitarist, entertainer from New York City and has performed with numerous iconic legends such as;  Donna Summer, Norah Jones, Billy Joel, Yoko Ono, Paul Shaffer, Joe Lynn Turner, and many more. 
Deena was even the featured STAR VOCALIST on a would tour with the rock legend Meatloaf.
Deena has a fascinating Legacy. She grew up in a house with legendary record producer/father Jimmy Miller (Rolling Stones, Traffic, Blind Faith, Motorhead ), Grandfather Bill Miller (who virtually invented the lounge act in Las Vegas), He booked, Barbara Streisand, The Rat Pack, Elvis to name just. few. Her Mother Gayle Shepherd (formerly of The Shepherd Sisters)  was also a singer with several hit records. 
Deena's creativity far exceeds that of performing music alone and has fronted many event bands, and has been featured at most of the finest venues in NYC with her band, for the most important day of people lives and for dozens of Corporate events. ( Rainbow Room, The Plaza Hotel, Waldorf Astoria Ballroom, Cipriani's,  Capitelle, The BlueNote, The Pierre Hotel,)  
With a Repiroire of more than 2000 songs Deena has the ability to customize the sound and mix of music for any event. From Jazz, Country, Classic Rock , Classic Disco, Top 40 and offers two variations of her MILLERTIME band to fit your needs and budget.  ( "MILLERTIME classic" band & "MILLERTIME Social") 
Thank you for your consideration, we are thrilled to give you and your guests the time of their LIVES !! 
Top 40 Dance & Classic Disco  
Aint no stoppin us now  
All the single ladies  
All about the bass  
American Girl  
Bad Romance  
Boogie oogie oogie  
Born this way  
Back in love again  
Best of my love  
Be my lover  
Brick house  
Bad Romance  
Bad girls  
Blurred Lines 
Can't get enough of your love baby  
Cake by the ocean  
Call me Maybe  
California Girls  
Cold Heart 
Crazy  
Everlasting love  
Everything  
Girl is on fire  
Good Feeling  
Good times  
Got to be real  
Disturbia  
Don't leave me this way  
Don't start now 
Don't stop til you get enough  
Empire State of mind  
Don't stop believing  
Disco Inferno  
Dancing Queen  
Dynamite  
Edge of glory  
Freeway of love  
Fire Burning  
Firework  
Forget you  
Freak out  
Get down tonight  
Girl is on fire  
Got to be real  
Good times  
Haven't met you yet  
Heaven knows  
Hips don't lie  
Hot & Cold  
Heaven (dance version)  
Hot hot hot  
I got a feeling  
I had the time of my life  
I know you want me  
I will survive  
I'm sexy and I know it  
I need to know  
I just haven't met you yet  
I love the nightlife  
I don't care I love it  
I like it like that  
I say a little prayer  
Just Dance  
Jungle boogie  
Lady Marmalade 
Levitating  
Love train  
Locked out of heaven  
Last dance  
Lets get loud  
Lets groove tonight  
Locked out of heaven  
Moves like Jagger  
My first my last my everything  
Mr. Saxo Beat  
New Rules 
Hot stuff  
I had the time of my life  
I'm yours  
I wish 
It's about damn time   
KISS  
Le freak  
Y.M.C.A  
Please don't stop the music  
Shake your body down  
Shake your groove thing  
Superstitious 
1999  
Only girl  
Oh what a night  
Party in the USA  
Pink Cadillac  
Poker face  
Raise your glass  
Roar  
Rolling in the deep  
Rappers Delight  
Shake it off  
Shame  
Single Ladies  
Smooth  
September  
Superstitious  
Suit & Tie  
Sexy Back  
Starships  
Treasure  
Together again  
That's the way I like it  
This is how we do it  
Turn the beat around  
Titanium  
Uptown Funk  
We are family  
We are never ever getting back together  
We found love in a hopeless place  
Wanna be starting something 
 Reggae / Ska  
Joker  
Lean on me  
Ooooh Child  
Angel in the morning  
I shot the sherriff  
Drift away  
I got you babe  
Swing   
Aint Misbehavin   
Anything goes   
Almost like being in love   
A foggy day   
As time goes by   
Bye bye blackbird   
Boogie woogie bugle boy   
All of me   
Cheek to Cheek   
Chattanooga choo   
Don't get around much   
Jump Jive and Wail   
Moonlight Serenade   
New York, New York   
Our love is here to stay   
Straighten up fly right   
Fly me to the moon   
Goody goody   
In the mood   
It's wonderful   
It had to be you   
I wish you love   
Just in time   
L.O.V.E   
Lets fall in love   
My romance   
Mack the knife   
Misty   
Nearness of you   
Night and day   
Paper moon   
Puttin on the ritz   
Route 66   
Satin doll   
Summerwind   
This can't be love   
They can't take that away from me   
The way you look tonight   
Time after time   
Take the A train   
Witchcraft   
Where or when   
You made me love you   
Slow Standards   
As time goes by   
Embraceable you   
Evergreen   
I only have eyes for you   
I've got a crush on you   
Nearness of you   
Over the rainbow   
Someone to watch over me   
Sentimental reasons   
Unforgettable   
What's new   
My funny Valentine   
When I fall in love 
Country   
All my ex's live in Texas   
Always on my mind   
Amazed   
Bad Mooon Rising   
Blue Bayou –   
Bobby McGee   
Boot Scootin Boogie   
Brown Eyed Girl   
Chicken Fried   
Cotton eyed Joe   
Cross my heart   
Crazy   
Desperado   
Downtown- Lady Antebellum   
Down Around the corner   
Friends In low places   
Gasoline and matches   
God bless the broken Road   
God gave me you   
Hey good lookin   
I loved her first   
I will always love you   
Life is a highway   
Looking out my back door   
Lyin Eyes   
Maggie May   
My Best Friend   
My wish   
Need you now   
People Get ready   
Ramblin Man   
Ride a horse save a cowboy   
Ring of fire   
Sarah Smile   
Shake it off   
Something More   
Stars Go blue   
Stuck like glue-   
Sweet Caroline   
Sweet Child of mine   
Sweet home Alabama   
Take it easy   
To make you feel my love   
Islands in the stream   
Joker   
The weight   
Then – Brad Paisley   
Timber   
T.R.O.U.B.L.E   
Wake me up   
Wagon Wheel   
Walkin after Midnight   
We are never ever getting band together   
When you say nothing at all   
Wild horses   
You had me at hello   
Wild nights
Ballads   
All of me   
All my life   
At last   
All I ask of you   
Because you loved me   
Baby I love your way   
Crazy   
Crazy love   
Come on get highter   
Daddys little girl   
Don't know why   
Evergreen   
Everything   
Endless love   
From this moment   
First time ever I saw your face   
Father & Daughter   
Georgia   
Get here   
God Bless the broken Road   
Have I told you lately   
Hurts so bad  
I will always love you   
I cant make you love me   
I only have eyes for you   
I hope you dance   
I'll be there   
Ice castles   
Killing me softly   
Kind and generous   
Lady in red   
Lets stay together   
Marry Me   
Natural woman   
Overjoyed   
Purple Rain  
Stay with me   
Still the one   
Thru the years   
Times of your life   
Through the fire   
The closer I get to you   
Thats what friends are for   
True companion   
Time after time   
Titanic   
To sir with love   
To make you feel my love   
Unchained melody   
You are so beautiful   
You are the sunshine of my life   
Your song   
You send me   
You've got a friend   
Wind beneath my wings   
Wonderful world   
When a man loves a woman   
Wonderful tonight   
When I fall in love  
Listening / Dinner Music   
Every little thing she does is magic   
Can't find my way home   
I want to thank you   
Summer Breeze   
Groovin   
Sonny came home   
Ice Kiss from a rose   
Both sides now   
Put up a parking lot   
I will remember   
In your eyes   
You've got a friend   
Just the way I am   
Landslide   
Don't know why   
Come through my window   
Kind and generous   
Just like a star   
Marry Me 
Classic Rock  
Rock-n-Roll   
Black Dog  
Old Time Rock & Roll   
Devil with blue dress   
Don't stop believing   
Everyday people   
Good golly miss Molly   
Gimme some lovin   
How sweet it is   
I wanna be sedated   
I'll be there for you   
I feel good   
Hot legs   
Jonny B Goode   
Iko Iko   
Hot legs   
Jonny B Goode   
Love shack   
Love the one your with   
Listen to the music   
Living on a prayer   
Magic Man  
Mony Mony   
Miss you  
Rock & Roll   
Pink Cadillac   
Proud Mary   
Crocodile rock   
Rockin' Robin   
Rock around the clock   
Something to talk about   
Taking care of business   
Twistin the night away   
They way you do the things you do   
What I like about you   
Have I told you lately   
My Guy   
You really got me   
Walk this way   
Long train runnin   
Jumpin Jack Flash   
Wild nights   
Brown eyed gir   
Brown sugar   
Sweet Home Alabama  
Sweet Emotion   
Satisfaction   
White Rabbit  
Beatles   
Saw her standing there   
Back in the USSR   
A hard days night   
Day Tripper   
Drive my Car   
Twist & Shout   
Hey Jude   
I saw her standing there   
In my life   
Jonny B Goode   
Twist & Shout 
Motown   
ABC  
Ain't 2 Proud 2 Beg   
Ain't no mountain high enough   
Ain't nobody   
Chain Of Fools   
Chapel Of Love   
Can't help myself   
Dancing In The Street   
Dance to the music   
Cold Sweat   
Do you love me   
Dock of the bay   
Fever   
Get ready   
Grapevine   
How Sweet It Is   
I Feel Good   
I got you babe   
I'll Take You There   
I Want You Back   
Just My Imagination   
Knock On Wood   
Let's stay together   
Lean On Me   
Midnight Hour   
My Guy   
My girl   
Mustang Sally   
Proud Mary   
Respect   
Rescue Me   
Sex Machine (Get Up)   
Signed sealed delivered   
Some Kind of wonderful  
Stop In The Name Of love   
Sugar Pie, Honey Bunch   
Sitting on the dock of the bay   
You Can't Hurry Love   
You Keep Me Hangin' On   
Under The Boardwalk   
Why Do Fools Fall In Love   
What's going on   
Rock steady   
Stand By Me   
Soul man   
Think  
Walkin in the sand